Click the map points for more information.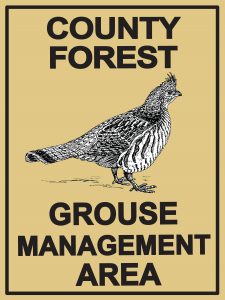 Wisconsin's 29 County Forests with nearly 2.4 million acres collectively make up the largest public ownership in the state. An ongoing sustainable management program on these forests provides a diversity of habitat types for a wide array of wildlife species including arguably the largest acreage of young forest habitat in the state (887,000 acres). This young forest habitat provides optimum cover and food sources for a suite of wildlife species including ruffed grouse and American woodcock. Therefore, providing Wisconsin with some of the best areas to hunt grouse or view these species in the entire country. But where do you start?
Since 1985, many of Wisconsin's County Forests have established cooperative ruffed grouse and woodcock habitat management areas with the support of the Ruffed Grouse Society (RGS). Eighteen of these Grouse Management Areas (GMA), covering over 95,000 acres, are highlighted in this mapping program and are located in Wisconsin's prime grouse and woodcock range. These GMA's focus on optimum habitat for ruffed grouse and American woodcock. These upland bird populations thrive when aspen forests are regenerated either by nature (fire or wind events) or man (logging). It is critical to maintain different age classes of forests to provide all the food and habitat cover these birds need to flourish.
This mapping system was designed to help hunters easily locate prime upland game bird hunting locations in Wisconsin. Look for the sign (pictured right) at the main parking area to signal a GMA (Grouse Management Area). Most of these management areas have hunter walking trails that are gated to exclude motorized vehicles, seeded and mowed to attract more wildlife. Information provided for each management area includes driving instructions, GPS coordinates for trailheads/parking areas, acreage of units, length of hunter walking trails, nearest towns with food, gas or lodging and local contacts for information about the county forest, chamber of commerce and closest veterinary services. If you feel more comfortable with a map in hand, downloadable maps of the individual grouse management areas are provided for each site. These maps identify the management area boundaries, parking lots, and hunter walking trail systems with many including breakdowns of forest types and aspen age classes that should prove very useful to perspective hunters. Maps of additional grouse hunting areas may be available. Please contact the individual County Forest Administrator for additional information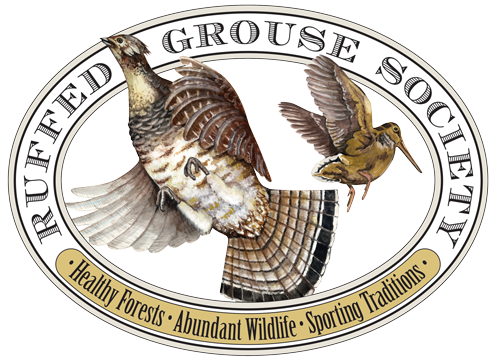 Hunting regulations, season length and license requirements are available on the Wisconsin Department of Natural Resources website at dnr.wi.gov. You can purchase a small game license at gowild.wi.gov.
To find out more facts about ruffed grouse American woodcock and habitat conservation visit the Ruffed Grouse Society's website. RGS has been a leader in restoration or improvement of federal, state and county lands for over 50 years. They are dedicated to ruffed grouse and American woodcock research, education, habitat management, preservation and hunting.

If a ruffed grouse hunting trip to Wisconsin has been on your bucket list, there is no better time than now to start making plans. Grouse numbers are on the rise as the ruffed grouse cycle heads toward its next peak and the Wisconsin County Forests hold some of the finest ruffed grouse and woodcock habitat in the United States. We hope you are able to join us soon for a wonderful hunting experience.