Wisconsin County Forests Association, Inc., was incorporated in 1968 under Chapter 181 of the Wisconsin Statutes, WITHOUT STOCK AND NOT FOR PROFIT. The Executive Director is the registered agent of the corporation.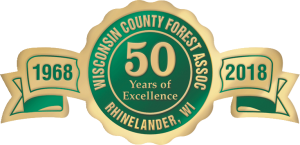 The office of the Wisconsin County Forests Association is located at:
Lincoln County Service Center
801 N Sales Street
Suite 107
Merrill, WI 54452
Phone: 715.539.1097
e-mail: info@wisconsincountyforests.com
In 1968, Wisconsin County Forests Association, Inc. was established to provide a forum for the consideration of problems, programs, and policies of the county forests. The association (abbreviated WCFA) is a non-profit quasi-government organization, which holds an annual membership meeting. Members are elected County Board officials who serve on their respective County Board Forestry Committees and the County Forest Administrators, foresters, and recreation providers who work in county Forestry Departments. WFCA elects fifteen delegates to serve on WCFA's Board of Directors. The Board of Directors typically meets three to four times each year. In addition, an Executive Director is hired to provide communicative and administrative service, maintain the records and office, and serve as spokesperson for the association. For more information on WCFA's Board and organizational structure, please see our bylaws.
Since its formation, WCFA has provided an invaluable service to its 30 member counties and the people of Wisconsin. On many issues of concern, volunteer counsel and leadership by dedicated WCFA members has enhanced the County Forest program. WCFA members also provide leadership on proposed legislation affecting forestry and forest land in Wisconsin. Some of the legislative effort members have been involved in include:
Treaty Gathering Rights Related to Timber
Adverse Possession Law (relating to public lands)
Timber Theft Legislation
All-Terrain Vehicles
County Forest Road Aids
Department of Natural Resources (DNR) Aids Programs
Managed Forest Law
Forestry Assistance for Private Landowners
Revising State and National Forest Fifteen Year Plans
WCFA members also work with private groups and public agencies toward the goal of strengthening forestry and forest-related programs in Wisconsin. Examples include:
DNR Prescribed Fire
DNR Public Land Management
DNR Silvicultural Committee
Forestry Best Management Practices for Invasive Species Advisory Committee and Technical Team
Wisconsin Forest Stewardship Committee
Wisconsin Off Road Vehicle Council (ORV)
Wisconsin Snowmobile Recreation Council
Wisconsin Woody Biomass Harvesting Guidelines Advisory Committee
Wolf Advisory Committee
Elk Advisory Committee
Marten Advisory Committee
Deer Trustee Report Review Committee